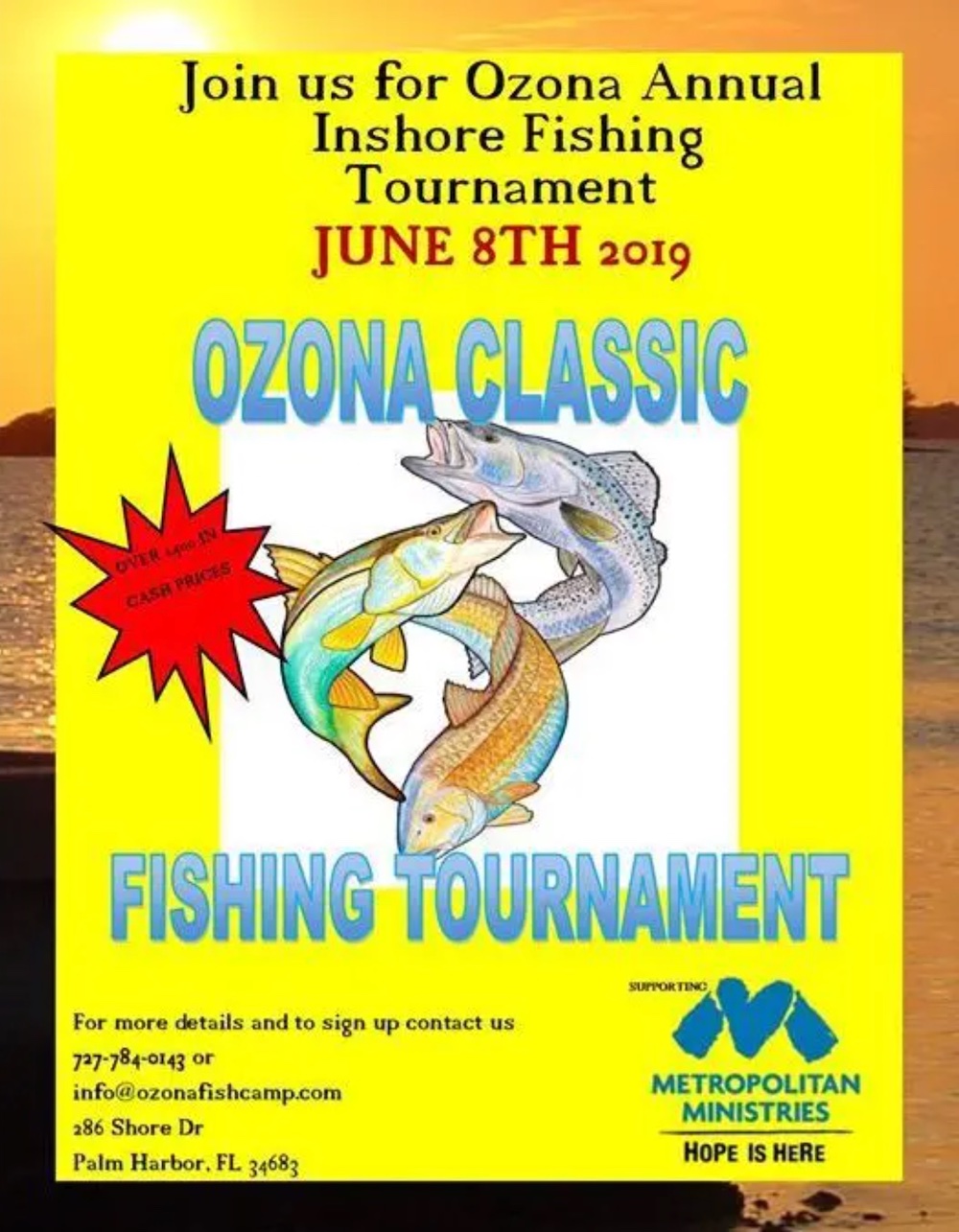 Don't miss out on the Annual Ozona Classic Inshore Fishing Tournament on June 8th, 2019 in Palm Harbor Florida. This event supports the Metropolitan Ministries.
Details of the event
Captain's Meeting
Silent Auction & Raffle
Friday, June 7th 2019
6 pm to 7 pm
Tournament
Saturday, June 8th
7 am – 3 pm
Weight-in
3 pm sharp
$300 Entry Fee per Boat to include up to 4 anglers
Award Party
Silent Auction & Raffle
Saturday, June 8th
Food & drinks provided
Venue:
Ozona Fish Camp
286 Shore Drive
Palm Harbor, FL
Location
For all events:
Ozona Fish Camp
286 Shore Drive
Palm Harbor, FL
Sponsorship
If you are interested in having your name and company name promoted, contact 727-784-0143 or email info@ozonafishcamp.com.
Palm Harbor's Favorite Marina

Finding the perfect place to store your boat can be difficult. Depend on Ozona Fish Camp to make your search much easier. They provide storage for everything from kayaks to cruisers. Their range of storage options is ideal for customers that want to keep their boat at an affordable, convenient, and comfortable marina.
Ozona Fish Camp offers:
Dry On-Trailer Storage
Their dry boat storage option is designed for customers who want to keep their boat on a trailer. You will be in a safe and secure location with nearby electric and water hookups, making it easy to clean your boat and perform minor repairs or maintenance. Benefits are:
Boat access seven days a week
Boat access 24 hours a day
Unlimited use of the boat ramp.
Accommodate boats up to 21′
Rates start at $200 per month, including tax
Boat Lift Storage
The boat lift storage is an ideal option for customers who want to keep their boat on the water, but not in the water. This option:
Eliminates the need for bottom cleaning and paint
Allows you to enjoy peace of mind during rough weather
30-amp electric and freshwater hookups are located at each spot
On-site ramp for a convenient and easy haul in and out when needed
Rates start at $400 per month, including tax
Ozona History
Did you know that in the 1860s Ozona's early settlers from Tampa discovered the area's outstanding beauty and abundant fishing potential? In the early 1900s Marino's Marina, now known as Ozona Fish Camp offered boat storage and launching. In 2015 Eric and Karen McLendon purchased the marina from the Marinos and changed its name to Ozona Fish Campa.
Lodging
There is a three bedroom two bath apartment above the marina available for weekly rental. Call for available dates and pricing.
Apparel
Ozona Fish Camp offers incredible artistic apparel in their store. Check it out.
Fishing in Tampa Bay Waters
There is excellent fishing all along the pristine flats from Clearwater, Florida to Tarpon Springs and all areas surrounding the Tampa Bay Waters. Fishing along some of the most beautiful beaches in Florida to the gorgeous backwater mangrove shorelines targeting some of the hardest pulling and strongest fish that swim in these salty waters. Three Rooker Island, Caladesi Island, are great spots to fish too.
Captain Brian Mathay
Looking for a fun and exciting day on the water? Look no further than Clearwater Inshore Fishing owned and operated by Captain Brian Mathay. Book your fishing charter today or call at (727) 667-8291.