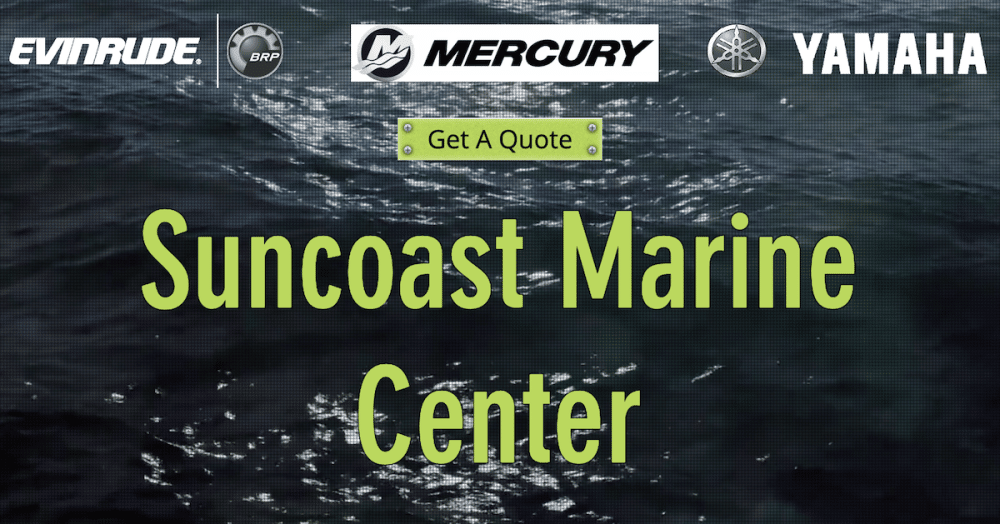 Clearwater Inshore Fishing is proud and excited to be associated with Suncoast Marine Center in Largo, Florida. We appreciate Suncoast Marine being our Pro Staff Sponsor in Pinellas County, Florida. Here is some of their history that has made them so successful. Also, find product and service information about Suncoast Maine Center below.
Suncoast Marine Center
Suncoast Marine Center has had a long history in the Tampa Bay boating community. Here is a timeline of the business:
1969
The company was founded as Seminole Marine in 1969 by three buddies with a knack for business and a boating addiction. They started as a Johnson Outboard Dealer and soon became one of the nation's largest dealerships.
1984
In 1984 the company changed the name to Suncoast Marine Center. They became an Evinrude Dealer and became renowned for great engine prices and honest, fast service.
Suncoast Marine Center was eventually bought by Bob & Kendra Burke, the current owners today.
2003
Major growth and expansion with a renewed approach to business and boating.
They quickly outgrew the original site, so they moved the company not once but twice. Their first move was in 2003 with continued success.
2009
They moved a second time into their current location at Belcher Road, Largo, Florida. They continued to experience growth and development of the business.
2012
The Burkes bought the property and building and added Yamaha Outboards onto their product sales and began remodeling their facility.
Today
Over the years, Suncoast Maine Center has developed, changed, and evolved to what it is today which is a great center, an amazing crew, a large client base, and two powerhouse brands. Their dedication to exemplary customer service is their highest priory, backed by unmatched quality. Their experience and knowledge are superior. Their primary mission is to be the very best servicing dealership.
Award-Winning
Suncoast Marine Center has repeatedly been an award-winning Evinrude Dealer. They have won for being the largest in sales; both in parts or engines almost yearly since opening. They have exceeded the service requirements for Evinrude Platinum Dealers. They have exceeded service requirements for Yamaha Dealers. The entire service staff are factory trained and certified. They have two Master Technicians on staff.
Services and Products Offered
The Center offers the following services:
Factory-Authorized
Warranty Services
Diagnostics
Repairs & Maintenance
Restore
They work on these products:
Evinrude, Yamaha, Mercury
2 Stroke Evinrude Outboards
4 Stroke Mercury Outboards
4 Stroke Yamaha Outboards
Suncoast Marine Center offers a complete menu of In-House Restoration and Accessory Upgrade Services including:
Custom Stereo Systems
Throttle & Controls – Mechanical or Electronic, Joystick
Lighting Systems – Courtesy, Decorative, Nav +
Custom Dash Panels & Switches
Complete Re-Wiring
Gauges & Instruments
Steering Systems – Mechanical & Hydraulic, Power Assist +
Plumbing – Livewell, Baitwell, Bilge Pumps, Hi Water Alarms
Hardware – SST, Thru hulls, Hatches +
Fuel Systems – Tanks, Hoses, Filtration +
Trim Tabs – Hydraulic & Electric
Jack plates – Bob's Machine, Atlas, +
Trolling Motors
Anchor Systems – Power Pole, Talon, Windlasses +
Propeller Testing
Engine Mounting & Bracket installation and more!
They also offer these Premium Outside Services In-Store:
Cushions, Pad & Seat Re-Upholstering
Restorative Detailing
Stainless Brightening
Bimini Repair or Replacement
Graphics, Wraps & Decals
Electronics Installation & Tuning
Propeller Reconditioning
Gel Coat Repairs
Fiberglass Repair
Product Refurbishment & Repair
We highly recommend Suncoast Marine Center and suggest you stop by and visit their location in Largo.
Captain Brian Mathay
Looking for a fun and exciting day on the water? Look no further than Clearwater Inshore Fishing owned and operated by Captain Brian Mathay. Book your fishing charter today or call at (727) 667-8291.