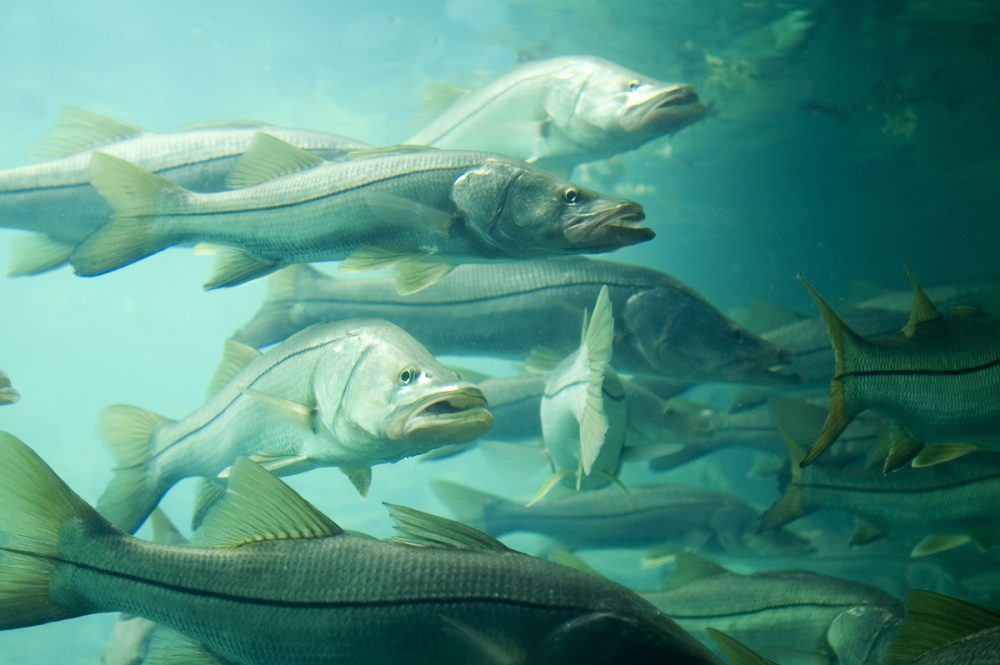 Want to catch a highly prized aggressive fighting game fish in Tampa Bay waters right now? Then, you'll love fishing for Snook which are excellent eating and fun to catch but do have strict catch limits and closures. They are running right now so book a fishing trip!
What is a Snook?
Snook are saltwater fish that belong to the family Centropomidae. Snook are the only fishes in the Centropomidae family. There are 12 recognized species; five live in U.S. waters. They differ in overall size and the size of their scales. The main snook of interest to anglers is the largest member of the family called the Common Snook (Centropomus undecimalis) which is also known as the Robalo or Sergeant Fish.
Description
"Snook can grow as large as 44 pounds and feed on small fish, shrimp and an occasional crab. Snook are protandric hermaphrodites, they are all born as males then some develop into females between 1 and 7 years of age. Snook have a distinct black lateral line and beautiful yellow colored fins. When handling snook, always grab them by the mouth, their gill covers are razor sharp and can inflict severe injuries," explains Floridagofishing.com.
Types of Snook
FishBase has images of 12 species of snook, 5 of which reside in Florida waters:
Common snook
Small-scale fat snook
Large-scale fat snook
Swordspine snook
Tarpon snook
Snook are a saltwater species that can tolerate a wide range of salinities. Snook often travel into brackish estuaries, sometimes venturing far inland into freshwater. Snook can be readily found in bays usually around structures and in shallow water off beaches, but mostly in southern Florida. Spawning in the summer months, snook congregate in large schools to spawn in deep passes and inlets.
Location
Snook like to hang around docks, sea walls, bridges and jetties. Places that can be accessed by boat as well as on foot. Inlets and passes, especially John's Pass and Clearwater Pass — anywhere there is a good, fast flow of water. Snook are seldom found in waters deeper than 60 feet. May and June are the best months here on the Gulf Coast, and fishing at night is most productive for very big fish — not just during the peak of a full moon.
Taste
Snook meat is white with a medium firmness, not as delicate as trout but not as dense as swordfish. It is a good idea to take the skin off. That's why it is nicknamed the soap fish. Just take off the fillet, remove the skin, add some seasonings or marinade, pitch it in the fridge, and you're done.
Give Captain Brian a call TODAY to schedule some time on the water catching this tasty fish before he is all booked up.
Captain Brian Mathay
Captain Brian Mathay of Clearwater Inshore Fishing feels passionately about the damage red tide has caused in our waterways and wants to spread the word to fix the problem for the future.
Looking for a fun and exciting day on the water? Look no further than Clearwater Inshore Fishing owned and operated by Captain Brian Mathay. Book your fishing charter today or call at (727) 667-8291.