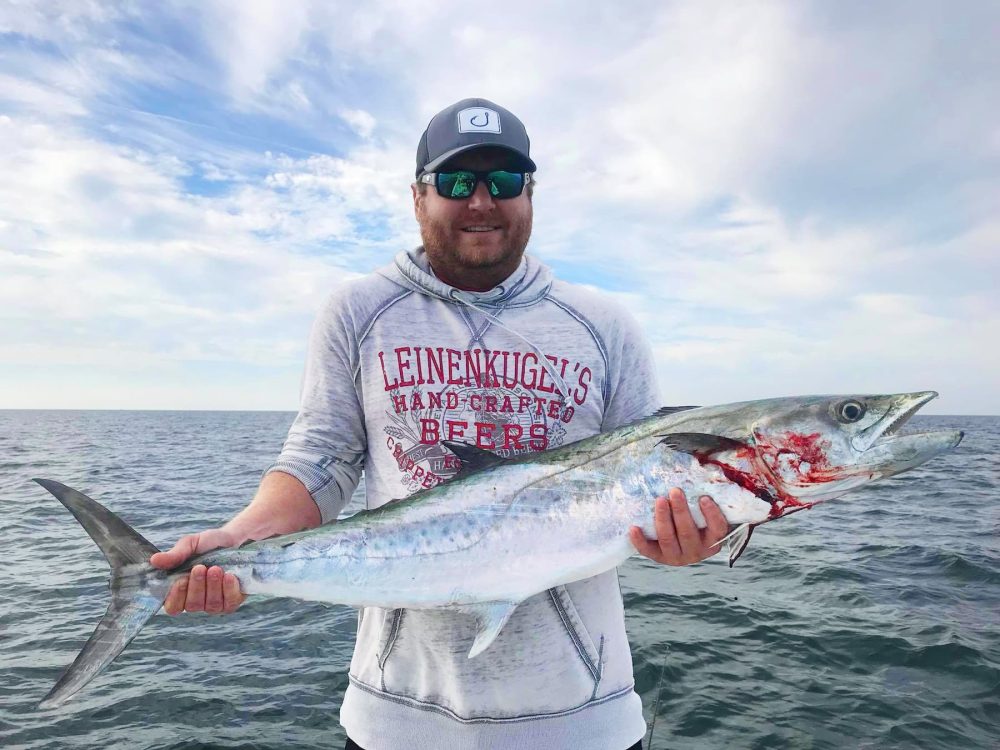 Kingfish are among the most sought-after gamefish throughout their range from North Carolina to Texas. They are known throughout the sport fishing world for their blistering runs.
What is a Kingfish?
The king mackerel or kingfish (Scomberomorus cavalla) is a migratory species of mackerel of the western Atlantic Ocean and Gulf of Mexico. It is an important species to both the commercial and recreational fishing industries.
The largest member of the mackerel family is the infamous "King Mackerel". Often called kingfish or just kings, these are one of the fastest line spooling fish in the ocean for its size.
Appearance
The king mackerel is a medium-sized fish. The entire body is covered with very small, hardly visible, loosely attached scales. The first (spiny) dorsal fin is entirely colorless and is normally folded back into a body groove, as are the pelvic fins. Coloration is olive on the back, fading to silver with a rosy iridescence on the sides, fading to white on the belly. Its cutting-edged teeth are large, uniform, closely spaced and flattened from side to side. These teeth look very similar to those of the bluefish.
Small king mackerel are similar in appearance to Atlantic Spanish mackerel and cero mackerel. All three species being similar in shape and coloration.
Size
Typically they weigh up to 30 lbs., but is known to exceed 90 lb.
Florida State Record
90 lbs. caught near Key West on February 16, 1976 by N.I. Thor.
Where to catch them
King mackerel are found nearshore and offshore throughout Florida, often near schools of baitfish. This species is reef-associated and oceanodromous and is often found in outer reef areas. They like water temperatures above 68 degrees.
Best bait or lures
Kingfish are a fast-moving fish, and love to strike fast-moving baits. One of the most effective methods for catching big kings is by trolling at high speeds with a lure. Kingfish like to eat shiny, schooling baitfish. Any lure that mimics such a fish, whether it is a hard metal spoon or a diving plug, will work for catching the eye of a kingfish.
At slower trolling speeds use live baits like sardines and herrings. They fall off at the high trolling speeds.
Looking for a fun and exciting day on the water? Look no further than Clearwater Inshore Fishing owned and operated by Captain Brain Mathay. Book your fishing charter today or call at (727) 667-8291.