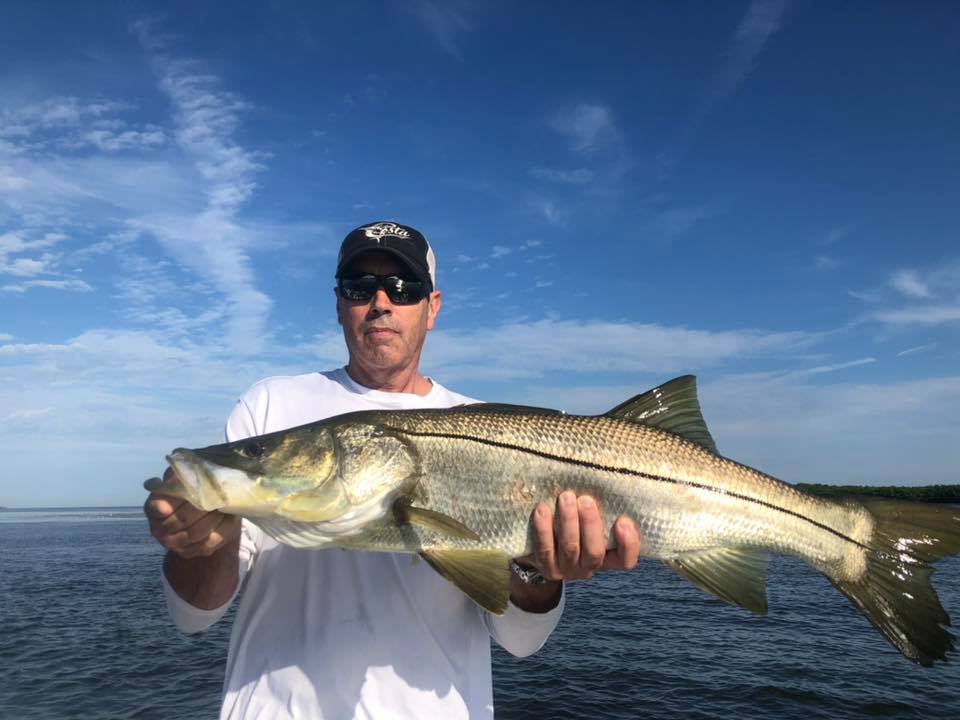 Great news for Pinellas County! The Tampa Bay Times announced that the Red Tide has disappeared from Pinellas County's beaches. "We're shutting down" county environmental management director Kelli Hammer Levy said Tuesday regarding the ongoing cleanup. "The bloom is now south of us."
Consider local fishing over the holidays and in 2019
Looking for a fun and exciting day on the water? Look no further than Clearwater Inshore Fishing owned and operated by Captain Brian Mathey. Fishing the pristine flats from Clearwater, Florida to Tarpon Springs and all areas surrounding the Tampa Bay Waters. Whether it is giant Tarpon, Tailing Redfish, Trout or Monster Snook, Clearwater Inshore Fishing has you covered. Fishing along some of the most beautiful beaches in Florida to the gorgeous backwater mangrove shorelines targeting some of the hardest pulling and strongest fish that swim in these salty waters.
Captain Brian has been fishing these local waters for over 20+ years and his knowledge will ensure you are on the best bite possible. Starting off the morning with a live well full of bait and off to the first stop where he will go over the techniques and tactics that we will be using throughout the day. From beginners to experienced anglers, everyone will be able to enjoy an incredible day of fishing and make memories that will last a lifetime. Don't wait to book your fishing charter today! There are plenty of charters to go to with a vast amount of experience in Florida such as www.key-west-fishing.link as well, but its up to you, after all its all about having a joyful time fishing with family and friends!
You can make a difference for the future by taking action now
Captains for Clean Water explains that "there is a solution sitting in Congress waiting for a vote right now to help save South Florida's estuaries that are on the brink of collapse. The EAA Reservoir and the Central Everglades Project will provide roughly a 50% reduction in Lake Okeechobee discharges. Ask your Senator to authorize the EAA Reservoir. Click here for the link to act".
What is red tide?
Red Tide in Florida is caused by the rapid growth of a microscopic algae called Karenia brevis. When large amounts of this algae are present, it can cause a harmful algal bloom (HAB) that can be seen from space.
"Red tide is naturally occurring. The blooms form 10-40 miles offshore. But when the blooms are blown inshore, they are able to use nutrients from the discharges and other pollution. That's what we're seeing now. When the red tide made its way to the mouth of the Caloosahatchee and surrounding bays the nutrient rich water "supercharged" the bloom, causing unprecedented devastation", reports Captains for Clean Water.
Captains for Clean Water
Captains for Clean Water is a grassroots 501(c)3 nonprofit organization that advocates for the elimination of harmful, large-scale Lake Okeechobee discharges into the Caloosahatchee and St. Lucie River Estuaries by restoring the natural flow of Lake Okeechobee water south into the Everglades and Florida Bay. Restoring the natural southern flow of Lake Okeechobee water is essential to the survival of our estuaries, the health of the Everglades, and the long-term viability of South Florida's largest drinking water source (the Biscayne Aquifer).
Captain Brian Mathay
Captain Brian Mathay of Clearwater Inshore Fishing feels passionately about the damage red tide has caused in our waterways and wants to spread the word to fix the problem for the future.
Looking for a fun and exciting day on the water? Look no further than Clearwater Inshore Fishing owned and operated by Captain Brian Mathay. Book your fishing charter today or call at (727) 667-8291.